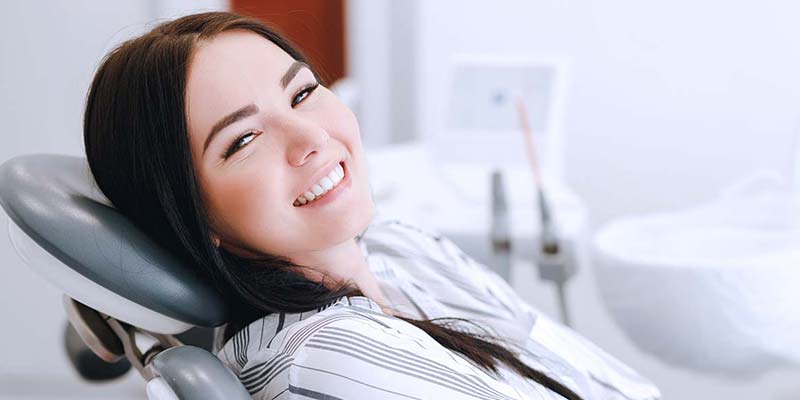 Veneers Cabramatta Patients Will Love
If you're suffering from stained, chipped, gapped or misaligned teeth then you might want to consider getting veneers in Cabramatta. This common cosmetic dentistry procedure can correct all of these issues and restore both your smile and your confidence. But what exactly are they?
In essence, porcelain veneers are thin shell-like covers designed to sit over the front surface of your teeth to conceal any flaws which lie beneath. Once fitted they can dramatically transform your smile, have a big impact on oral health, and give you a huge boost of confidence. Not bad for something so unassuming right?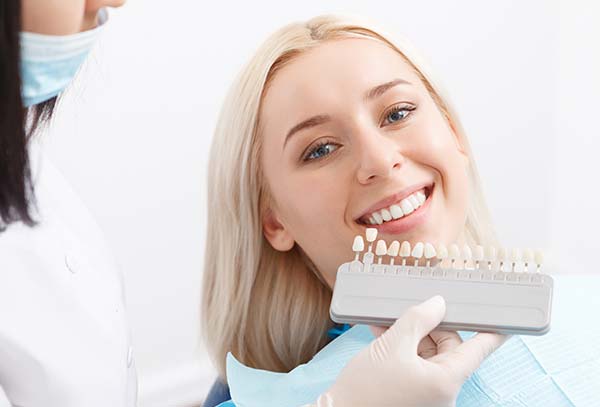 Porcelain has a number of qualities which make it an excellent cosmetic material for your teeth.
Qualities of Porcelain
● It's virtually stain resistant – It's true! Porcelain veneers are very resistant to staining, unlike your natural teeth. So no more unsightly teeth when drinking red wine, black coffee, or other staining agents.
● It has great translucent qualities – Dental porcelain, the type used on veneers, has a semi-translucent quality about it, just like your tooth enamel. So once fitted it gives the most natural look
● It's hard wearing – You'd imagine porcelain to be fragile, but in fact for its size and weight, dental porcelain is incredibly hard wearing. A good porcelain veneer should easily last ten years or more – provided you don't start removing beer bottle tops with your teeth
Porcelain veneers really are the ideal way to transform your smile at a fraction of the cost of dental implants and crowns. So if you're looking to make a difference, isn't it about time you transformed your smile with some of the best porcelain veneers Cabramatta has to offer right here at LV Dental!
Who is a candidate for cosmetic dentistry veneers in Cabramatta?
An ideal candidate for porcelain veneers in NSW, might be a person with deep ingrained teeth staining that can't be removed using professional teeth whitening techniques alone. In addition, anyone with minor imperfections such as slight tooth gaps or teeth blemishes is also a good candidate.
However a good candidate would need a healthy mouth, moderately straight teeth and sufficient dental enamel. They would also need to practice good oral hygiene and not grind or clench their teeth.
That's not to say that if you have minor dental issues you can't have porcelain veneers fitted. Instead, our dentist would carry out any necessary restorative dentistry work, prior to installation.
In some cases, porcelain veneers can be used to close gaps between teeth giving a straighter, more even smile, which is why they're sometimes referred to as a fast 'orthodontic' treatment.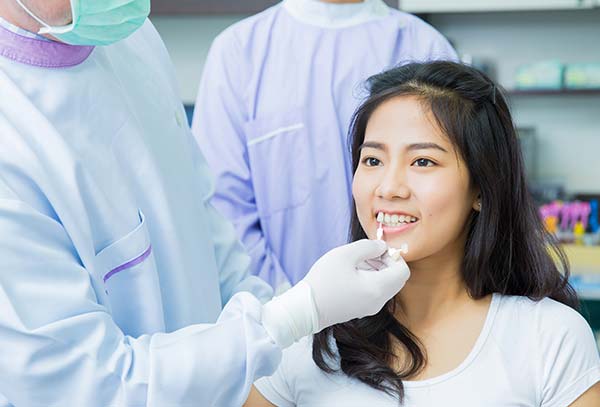 So how are veneers in Cabramatta fitted?
The first step is to trim the tooth – Or rather, to remove a thin slither of tooth enamel. This is so the veneer sits flush when fitted. It's normally trimmed back about the same thickness as the veneer so roughly 0.5mm -0.7mm. That's roughly twice the thickness of an egg shell, although we may need to trim more.
Next Dr. Vo will use a shade guide to colour-match the veneer to your teeth for a natural look. Then our Cabramatta dentist will take an impression of your mouth so that the veneers will fit precisely. The impression is then sent to the dental lab where your veneers will be made. Turnaround time for this process is normally 1-2 weeks.
In the meantime, on some occasions, we'll fit you with a temporary veneer. This is usually when greater thickness of tooth enamel has been removed. It's usually thicker than your permanent dental laminate will be, so don't worry if it feels a little weird at first. You can wear this while you're waiting for your permanent replacement laminate to be made.
All of the above are carried out during one cosmetic dental visit.
On the second dental visit to our Cabramatta dental practice, Dr Vo will remove your temporary veneer and once ensuring that everything is good in terms of fit and bite, will permanently cement the veneer to your tooth.
First an etching gel is used to roughen up the surface enamel. Then a bonding agent is applied and finally your veneer is placed into position. Lastly any excess cement is removed and you're good to go!
If you'd like to find out more about how porcelain veneers in Cabramatta can change your smile, then contact Dr. Linda Vo about this great cosmetic dentistry process at LV Dental. We're your 'go to' family dentist in Cabramatta, NSW, so call us on (02) 9158 6373 to book a consultation.